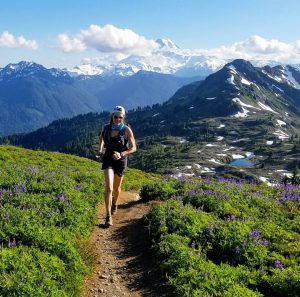 This month the race director spotlight is on Gretchen Walla of Walla Trails and Community. It has been a joy working with Gretchen to support her events this past year. One thing in particular that stands out to us about Gretchen is how devoted she is to her community. Gretchen makes a priority of seeking out local business partners and dishes out praise and acknowledgment generously. Here are a few questions we wanted to ask Gretchen about her race director journey:
What made you want to become a race director?
Watching my vision for Twilight 12 Hour unfold in 2016 was what sparked it all. Based on a backyard night run I did in Utah in 2015, I wanted to re-create a fun and safe space for running at night on my favorite guest ranch, Flying Horseshoe Ranch. My prior experience organizing and planning events and programs for the YMCA (including a horse camp at Flying Horseshoe Ranch) was helpful in forming Twilight 12 Hour. I enjoyed the process of guiding volunteers and runners through the vision I had created. Putting together and directing the event didn't feel like work and I was excited about the idea of doing it more than just once a year. Four years later, I started Walla Trails and Community to expand on race directing!
Where do you get your inspiration for your races from?
The inspiration comes from personal experiences that have had lasting impressions. Walla Trails and Community currently has five unique events based on things like friendship, helping my local community, celebrating beautiful autumn seasons in the PNW, etc. There are so many great trail running races that focus on the course and people's time. While I want Walla Trails & Community events to have some good friendly competition with great prizes (because let's be real – I have a competitive side to me!), I like the idea of having a different theme or cause for each event.
What is the craziest thing that has ever happened at a race you've organized?
Does going out at 3 am to run a loop with a few participants in a green M&M costume count? Let's just say I have a thing for costumes and when that's combined with directing an event lasting 32 hours, things get a little wacky!
What do you hope your participants come away from your events with?
I found myself over the years telling participants at Twilight 12 Hour to "make the event what you want it to be." Whether it's a training run, a place to meet other runners, a weekend away to unwind, or striving for a PR that could result in fun prizes, there's no pressure. That motto can be applied to all the events I have created so far. There are no DNFs which takes the pressure off; however, I also want there to be some rad and unique prizes for those training hard. In other words, I want Walla Trail events to meet people where they are in their running journey and come away with a positive weekend of running.
What is the best thing about race directing?
Getting to know the people involved in the events – participants, volunteers, families, and crew of runners, partners/sponsors, etc. I absolutely love hearing people's stories and where they are at in their running journey. Four of the five events I put on are timed, looped events which allow me to stay in one place and see runner's races unfold. I get to cheer them on while visiting with volunteers and crew. With the virtual events, I have stayed connected by emails, social media, and sending mail. For those people who have participated in multiple virtual events, it will be extra special to cheer them on at an in-person event in the near future!
To learn more about Gretchen and her upcoming events check out the Walla Trails and Community page.