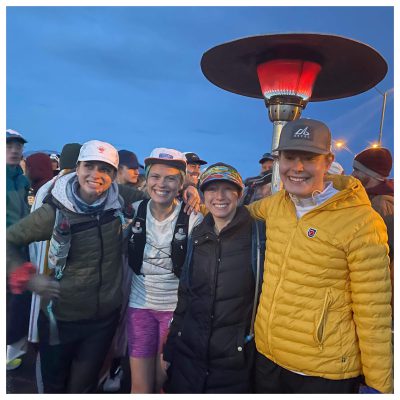 3 years ago in February of 2020, (just before the world shut down due to covid) 5 girlfriends and I flew to Arizona on Valentine's day to run the Black Canyon 100k. It was a tough day for all of us and my race didn't go how I thought it would go. Running in the desert was harder than I imagined and I finished much later than I had expected. The heat was hard on me and the course looked "easy" on paper but in reality, it was not. I kept thinking I was getting close to the next aid station when I heard "cheering" but it turns out those were the coyotes "yipping" in the distance. I finally made it to the last aid station and sat down in a chair in the dark and cried. I only had 3  miles to the finish from there so I grabbed some chips and tried to run. I couldn't run, my legs were too tired, and so I walked most of the last 3 miles eating my chips and crying. But I finished. I was proud of that finish and even though it was a hard day it was still a GREAT experience. Such a good experience I got my first tattoo to remind myself of that hard-fought effort that day. A coyote on my forearm under the moon.
Fast forward to 2022 and I am on a training run with my girlfriend, Monika, and she says she is going to race Black Canyon 100k in 2023. I think to myself, "I could go back. I could see if I can do better than last time." That's all it took for me to sign up, along with 2 of my other girlfriends from Bellingham, and the 4 of us ladies made another trip to the desert to run Black Canyon 100k.
Race morning was COLD. It was 34 degrees at the start. That is the desert for you. I knew it was going to warm up quickly once the sun came up so I wore shorts, a tank top, and arm sleeves. I was in the "first wave" of runners that started at 7 AM and with 10 minutes to start we all lined up on the track waiting for the final countdown. 3….2…..1 and then we started moving and did one lap around the track before exiting onto the trail. The sun had just started to come up and I was excited.
My goal with this race was to push myself a little bit and push through the pain when my legs were tired and sore. I had 3 goals. My "A" goal was a sub 11-hour finish (this would be hard and would be possible if everything on race day went perfectly). My "B" goal was a sub 12-hour finish. My "C" goal was to beat my time from 3 years ago which was 13 hours and 12 minutes. This race is arguably one of the most competitive trail 100k's in the country with elites and professionals coming from all over to try to win. It was fun to get to run and compete with the best in the sport of trail running.
The first 20 miles of this race are mostly downhill with some little climbs and I maintained a pretty good pace during those 20 miles trying to go at my normal "easy run" pace without pushing too hard. A lot of people go out too hard on this course because the downhill feels so easy in the beginning and you have no fatigue yet on your legs. I was feeling good and enjoying the scenery. Sunrise in the desert is gorgeous, there are no trees to block your view and you look out and see endless hills, valleys, and canyons as the sun blankets the desert in a warm golden glow. I took in the views when I could, but I couldn't look too long since I had to keep watch where my feet were landing as the trail had a lot of rocks and twists and turns. I didn't want to fall or twist an ankle.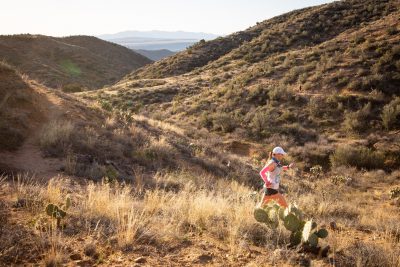 I feel like the first 20 miles of the course went by really smoothly and easy. It wasn't too hot and was a perfect temperature for running. I was eating well and feeling good. Around mile 20 is when I got to Bumble Bee Ranch which was an aid station you were allowed "crew" at. For this race, my dad flew down to Arizona with me to be my crew person. The night before the race I went over what I would want in my running vests. I had 2 running vests and I was going to swap vests when I got to the aid stations where my dad was. Arriving at Bumble Bee Ranch can be overwhelming as there were 900 people signed up for this race and a lot of them had a crew. There were so MANY people there when I ran in and everyone was cheering for the runners.  My dad knew it would be overwhelming so he positioned himself in a spot I would easily see him and he whistled and waved his arms when I came in. I ran to him and told him I was feeling good. We transferred my phone from my current pack to the new pack he had ready for me and then I took a PB&J from the aid station and a banana and ate those before I continued running. The next time I would see my dad would be at Black Canyon City at mile 37.4. "Only around 17 more miles until I get to see Dad again," I told myself. Breaking down a long race into bite-sized chunks makes it more manageable.
After I left this aid station there was a climb that I wanted to run up but it was far too much effort so I switched between power hiking and running when I could. I believe it was also this section where I ended up by myself for a bit and I got nervous I was going the wrong way. I have some PTSD from a previous race where I ran 4 miles off-course and had to find my way back. I stopped on the trail and waited for another runner to catch me which made me realize I was still on the correct path. This 17-mile section is when it started to get hot and I was drinking more water than I anticipated I would. I ran out of water about 2 miles before the next aid station. Not the end of the world, but it didn't make it any easier. We had some river crossings and when I crossed the river I took off my pack and laid down in the river. No one else was doing that, but this Pacific Northwest girl was NOT used to the heat of the desert and the exposure of having no trees or shade! That dip in the water felt SO good and I was able to get back in a good running groove.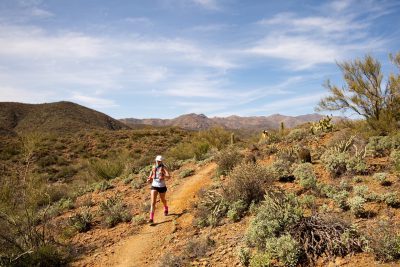 There is a big climb before you get to the 37.4-mile Black Canyon aid station and I felt pretty solid on that climb, mixing up running and power hiking. Black Canyon aid station is another BIG aid station with a lot of people. Of course, Dad had positioned himself in the best spot possible for me to see him and as I came in he whistled for me. He had my pack all ready and he had gotten my ice bandana pre-soaked in ice-cold water for me since it was hot. He knew I would want to put that around my neck to cool down my body. At this aid station, they also had volunteers with buckets of ice-cold water and sponges that they would squeeze over your head and body to cool down. It took my breath away as they sponged the ice-cold water over my head but it felt SO GOOD! As I left Black Canyon aid station I wasn't looking forward to the mile-long uphill climb heading out, but I was surprised at how good I felt on this section. I ran the entire uphill section relatively easily. The food and cold water were helping.
Then it started getting hot again and I was drinking my water quicker than I thought I would. I was trying to conserve as I didn't know when the next aid station was. I ended up chatting with another runner and asked if he knew where the next aid was and he said he thought around mile 45. At mile 44 I was out of water and really hoping the next aid was at mile 45. My watch then got to mile 45 and still no aid station. There was a woman running ahead of me who I nicknamed "blue pack girl" because she had a blue running pack. We had been leapfrogging each other for a while and at mile 46, after being out of water for 2 miles and in desperate need of water, I asked if they knew where the next aid was. They said they didn't think there was one until mile 50.9 which was still another 6 miles away. I was devastated. The woman asked if I was out of water and I said, "Yes." She told me she had extra water and pulled it out of her pack and filled up my bottle. I was SO thankful and learned that her name was Meredith. THANK YOU MEREDITH!  Turns out that about 0.25 miles after she gave me water there WAS an aid station at mile 46, where I drank SO much water and had some Coca-Cola and another PB&J. I left that aid station feeling good and I knew I only had about 4 more miles until the next big aid station, Table Mesa (mile 50.9). This was the last aid station I would see my Dad at before the finish.
I was so happy to see my dad at the Table Mesa aid station and I sat in a chair for a second he gave me my new pack and I drank some water. Pulled out my cell phone and my friends in our group chat were messaging asking, "Where is Alicia in the race? The tracker isn't updating!!" I quickly took a photo of myself and texted back "Mile 50.9." At this point, I knew I wasn't close to making my "A" goal of a sub-11-hour finish, but I could still push to make my "B" goal of a sub-12-hour finish. It would be hard but I thought I could do it.  I verbally told my dad that before I left saying, "New goal. Sub-12-hour finish. See you then," and I took off eating a PB&J. It was later in the afternoon at this point and it was cooling down. I was focusing on running as much as I could, even though my legs didn't want to run. I got into a good group of people running and power hiking and paced with them for a couple of miles. It helped keep me moving efficiently and I was thankful to have their company. We chatted and joked and I was feeling GOOD. I thought "Maybe I should be pushing myself harder?" But I didn't want to leave the safety of this little group. Eventually, I realized that if I wanted to make sub 12 hours I would have to leave them and push myself even more. So I slid in front of them and then picked up the pace.
I was feeling so good and I kept thinking, "Man, I wish this were a long race so I could keep running now that I feel so much better and it's not hot." The sun was getting lower in the sky and transforming the desert from the harsh afternoon sun to beautiful hues of red, pink, and purple.  I was looking down through this canyon and saw far off in the distance 6-10 hot air balloons floating in this magical glow of the late afternoon desert sky. I didn't have time to stop and take a picture and I knew a picture wouldn't look as good as what I was seeing in real life. I took a second to make a mental memory of this image and kept on running.
I knew I was coming up on the last aid station before the finish, Doe Spring. It was 3.6 miles to the finish from that aid station. 3 years ago when I got to that aid station I was in rough shape and had been running in the dark for a long time. This year I arrived and it wasn't dark and I felt really good. I contemplated not stopping at the aid because I was REALLY cutting it close to getting that sub 12 hour finish. I did stop and had a quick cup of Coca Cola and then kept running (I timed it and it was only a 30 second stop). I took off running fast. Calculating in my head I was going to need to do some fast miles to get sub 12.  The last 3 miles aren't super easy running either, there are still a good amount of rocks and some little hills to navigate. I looked at my watch and it was 11:57:00 and I still wasn't sure how far away I was from the finish. It then read 11:58:00 and I could SEE the finish line. I started sprinting. I sprinted through the finish line at 11:58:35 and my dad was right there to give me a BIG hug saying "YOU MADE IT! YOU DID IT!! I WAS GETTING WORRIED BUT YOU DID IT!!!" I beat my time from 3 years ago by 1 hour and 20 minutes. I averaged an 11:34 min/mile pace for 62.12 miles this year and was really proud of my time.
While I didn't get my "A" goal I got my "B" goal of a sub-12-hour finish. A teacher I had in middle school at Assumption Catholic School named Mrs.Case said once that "A stands for ABOVE average and B stands for 'BOVE average." I'm really happy with getting my 'BOVE average goal. And who knows, maybe I'll go back one day to go for that sub 11 finish. Maybe not.
Thank you to Pacific Multisports, Bellingham Experience, Bellingham Distance Project, rabbit running company for your continued support in my running endeavors. What's next? Cocodona 250 Mile Endurance Run starts May 1st. If you want to follow along with my future running goals and races you can follow me on Instagram at instagram.com/leasha24.