Swimrun is the coolest new kind of competition that you might not have heard of but definitely need to try. This unique sport is known for its supportive and welcoming community. Generally done with a partner, and sometimes even tethered together, SwimRunners are in and out of the water several times throughout the course. SwimRun is gaining in popularity across the world and Bellingham just happens to be one of the hubs for this up-and-coming sport.
We sat down with local SwimRun race director and owner of Quest Adventure Racing, Brent Molsberry, and Annie Molsberry, owner of Swimrun Labs to learn a little bit more about this sport and why Bellingham is the perfect place for SwimRun.
How did you first get involved with SwimRun?
Brent: Let's start by saying I am not a swimmer.  I got tricked into SwimRun as a race director.  I had been directing Quest Adventure Races for 10 years and was perfectly happy with races that involved running, mt. biking, kayaking, and navigation.  My friend Brian reached out to me after reading about SwimRun and said we have to do one of these.  My initial reply.  "If God wanted me to swim, he would have given me gills." But Brian wouldn't take no for an answer.
So the hunt for a course began.  Bellingham is not only home, but it also has the ingredients for great swimruns, a multitude of trails and lots of water.  Bellingham SwimRun was born in 2017.
In the fall of 2018, Lars Finager and Jeff Cole from SwimRun USA (now Odyssey SwimRun) reached out about creating a world-class long-distance race in the San Juan Islands.  So in 2018, we hosted the first Orcas Island SwimRun with 19 miles of running, 3 miles of swimming split between 12 swimming sections, and over 6,000′ of elevation gain.
Annie: I got involved in SwimRun for the adventure. I consider myself an adventurer first and an athlete second, and what the heart decides upon the body always follows. I couldn't resist the adventure appeal of SwimRun, a way of moving through nature that I had never experienced before. I was attracted to the wacky proposition of tethering myself to a friend and becoming an amphibious duo for an hour or two. I also got a great deal on race entry, due to my close relationship with the director of Quest SwimRuns, and I love a bargain almost as much as an adventure. Even without the spouse-discount, Quest SwimRuns deliver a fantastic value to racers who are looking to get into SwimRun for the first time and experience what makes the SwimRun community so special.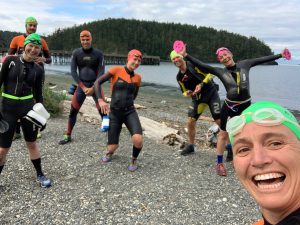 Why do you think it is that SwimRun is growing so fast in popularity? What makes it such a great sport?
Brent: I think SwimRun's growth is based on a couple of things.  First off, it is just plain fun.  It's fun to feel like an amphibian, swimming across a lake, then running a trail, then swimming across a bay, and running over a mountain.
The other big difference with SwimRun is the teammate.  You share the experience.  (You can race solo in some events, but I highly recommend a teammate).  You have someone to talk to.  You have someone to pull you (literally, tow lines are not only legal but encouraged).  Having the teammate also seems to break down the communications with other teams as well.  It's so great to run along a trail and laugh not only with your teammate but with other racers.
Annie: All levels and ages can participate in SwimRun, you don't need to drop a bunch of cash on fancy gear, and the community is open and inviting to all. Participation in sports after the college level has many options for individual athletes: triathlon, running, cycling- these are the primary disciplines adults can choose from. SwimRun offers the unique opportunity to race with a teammate, and of any gender or age. Parents and children can race together, best friends can race together, a female and a male can race together, or you can make your SwimRun a blind date. Where an individual sport can offer valuable solitude and personal growth, SwimRun offers Connection with a capital C. Connection with your teammate, with other teams, with nature, and with the expanded potential of experience that is shared. Where there is connection, there is always growth, and it is no surprise that we are seeing SwimRun grow rapidly in popularity.
Why does Bellingham make a good home base for Quest and SwimRun Labs?
Annie: The SwimRun options out the back door are as world-class as it gets, not to mention diverse. Whether you like an urban SwimRun, freshwater, saltwater, island-to-island, or mountain lakes, you can find your flavor in or near Bellingham. As avid multisport athletes, we understand that the more modes for exploring one can access, the more fun it gets. SwimRun inspires us to connect new routes on land and water that we have explored many times and engage again with our beloved home-terrain with a fresh perspective. Bellingham is the perfect place for a swimrunner to stay inspired for many years to come.
Brent: There is literally nowhere better for SwimRun in the entire country than Bellingham and Northwest Washington.  We live on the Southside of Bellingham and can do SwimRuns from our front door, with a run to Taylor dock and Boulevard.  We have done SwimRuns in Lake Padden, Lake Whatcom, at Larrabee State Park, at Deception Pass State Park, Orcas Island, San Juan Island, and in Seattle.  Nowhere else in the US do you have this kind of amazing courses all so close to home.  Most places in the world are lucky if they have one place to train that may involve the same half-mile swim, and the same 4-mile run.  If you are training for a longer race, you may repeat that same lap for 5 or 6 hours.  In Bellingham by contrast, our hardest decision is deciding which of these amazing routes to train on.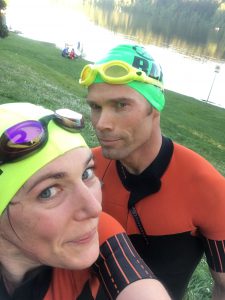 What advice would you give to someone considering trying out SwimRun for the first time?
Annie: Just do it! We have been fortunate enough to witness many people try SwimRun for the first time and the response is practically unanimous: "I'm hooked!" Don't overthink your gear- all you need is running shoes, goggles, and a partner. Some type of wetsuit, a pull buoy, and maybe a tether can come later but don't feel like you need these things to map out a short route, grab a friend, and give it a try. The shoreline and South Bay trail at Boulevard Park or Lake Padden are very straightforward and friendly areas to try the sport for the first time. Check out the resources Brent shared for more information about how to get started in the sport, and reach out to us at Swimrun Labs and Quest Races for support, gear advice, training resources, and local route ideas.
Brent: Swimrun is a very approachable sport.  As with most things, start small.  Go to a local lake with a friend, and just do one.  You don't have to start with a race.  Make it simple, with one or two swims, and a couple of runs.  You don't have to get fancy.
Find resources like Swimrun Labs to learn more about the sport and training.  Join us at Quest Races when we have free group SwimRuns (Once the whole COVID thing calms down).  Or just shoot us an email.  We would be happy to talk you through ways to experience Swimrun.  Also, if you are a podcast person, check out The Low Tide Boyz podcast.  It's a great way to learn about the sport.  If you are looking for a bigger challenge check out Odyssey Swimrun.