With summer right around the corner and many local race events canceled due to Covid-19, it's a good time to find other creative ways to stay motivated to keep moving. If you're like us you might be craving the excitement of those minutes before the race, crowded together at the start line, the feeling of giddy nervousness right before the horn goes off to mark the start of the race.
Virtual races will be a little different. But you might be surprised by how fun and motivating they are, and how great it is to feel part of the racing community even though we aren't physically together this year.  With so many virtual races to choose from, consider signing up for a local race that supports organizations and individuals in Whatcom County. We've rounded up a great list for you.  Happy (virtual) racing!
July 1st-31st – The Chuckanut Footrace is a classic local race that has been ongoing for 53 years! Not willing to break a streak like that, the Greater Bellingham Running Club will be taking this well-loved event virtual this year. You can choose to run part of the traditional course or your own 7-mile course any time during the month of July. Runners who post photos from their run will be entered into a prize drawing.
July 1st – September 7th  – Bellingham Parks and Recreation is producing two new ways to keep you inspired to move through the summer months. Choose from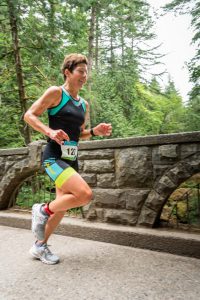 The Super Duper Distance Challenge or The Padden Challenge or see if you can tackle both! See how far you can run in a 10-week period and track your progress as you go. Or race against yourself and see if you can improve your time on the trail around Lake Padden.  Log and submit your distances/times weekly and compete with other runners in your age group.  Both races include a shirt and medal. Sign up soon, registration closes July 19th!
August 22-23 – The Hamster Endurance Virtual Runs are sure to be a blast and a challenge as you choose to run for 6, 12, 24, or 32 hours on a 4-mile or shorter loop of your choosing. Along the way you can check in virtually with other participants as Race Director, Gretchen Walla, gives hourly updates on social media. For this race, you track and submit your mileage and can see what other racers are up to as well.  Part of each race registration will be donated to the Whatcom Family YMCA.
August 23 – Registration is open now for the Dog Days of Summer – At Home Addition!, a fun run/walk that raises money for the Whatcom Humane Society.  A photo competition will be part of this family and canine-friendly event with awards being given out in categories like; Dog/Owner Look-Alike, So Ugly You're Cute, and Most Enthusiastic!
Ongoing – Local race company Quest Races is serving up a different kind of challenge. If you haven't heard of Adventure Racing but love running, biking, and bushwacking it's time to give it a try. A great way to get a taste of adventure racing is through one of Quest Races Corona Courses. Combining racing, navigation, and working as a team these family-friendly, free courses may be just the inspiration you need to get out and explore Bellingham in a whole new way.
To stay up-to-date with what's happening in the local racing community follow Pacific Multisports on Facebook and Instagram!
P.S. If you are a local race organizer wondering what it would take to make your event virtual this year we'd love to help.