At a time when we've seen so many favorite local trail running events postpone or cancel completely for 2020, there are some Bellingham running companies finding creative ways to keep the community engaged and inspired.
In May we saw Gretchen Walla of Walla Trails and Community make the hard decision that every race director is struggling with right now – cancel, postpone or go virtual. Gretchen decided to take her popular Twilight 12-Hour Run into the virtual realm and was surprised by what an overwhelmingly positive response she got from the trail running community.
"The thought of sitting in my apartment Twilight 12-Hour weekend sounded too depressing so I planned to run some solo night miles.  Originally, I was just going to ask a few friends if they wanted to run at the same time and FaceTime, and then thought "why not open it up to other people?"  And with that, I formulated Twilight 12 Virtual Run," Walla said, "There were 225 runners registered from Washington, Oregon, California, Idaho, Alaska, Texas, Maryland, Pennsylvania, and a few folks from Canada. There were a lot of cool things that unexpectedly emerged from this event – people involving local businesses, getting creative with running routes (oh, the creativity!), hundreds of photos that were shared – are a few examples.  However, my favorite thing was being able to participate all 12 hours and go live on Instagram on the hour every hour to see what people were doing (kudos to my Trailsisters Krissy Moehl and Nichole Embertson for the idea!).  I was able to watch many runner's evenings unfold and personally never felt alone.  I'll admit that I was skeptical of the virtual run thing but I actually had a blast doing it."
Met with such enthusiasm Gretchen has decided to convert another one of her events. The weekend of August 22-23rd you can virtually participate in the Hamster Endurance Runs.  Traditionally this event has been held at Lake Padden where participants run a looped course for 6, 12, 24, or 32 hours. For the virtual event, runners will need to establish their own 4-mile or shorter loop. The aid station might look like your family in your front yard, but you'll be (virtually) in good company as other runners from across the state and beyond take on the challenge at the same time. Gretchen will be checking in live on social media regularly with runners so you know you have a crew out there supporting you in spirit.  Pacific Multisports will be there too, tracking results and cheering you on as the miles roll by!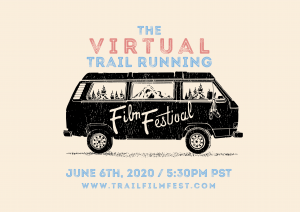 Last month we saw another trail-running success as  Abram Dickerson of Bellingham-based Aspire Adventure Running and James Varner of Rainshadow Running worked together to host a Virtual Trail Running Film Festival complete with live commentary, prizes, and inspiring footage, as well as some somewhat hilarious technical difficulties. The festival brought more than 7,000 people together (virtually) from the trail running community to watch, dream, and reminisce about time on the trails, and raised over $31,000 for the YWCA Covid Relief fund. With the kinks worked out and a huge positive response from the first festival, tickets are now available for a second Virtual Trail Running Film Fest on Saturday, June 6th.
When asked what we can expect from the second film festival and beyond Dickerson said, "In general I'm hoping for a smoother hosting and user experience, still hilarious, but smooth.  As we shift towards doing "episodes" rather than just a single show, each month will have a specific theme and a different non-profit we're supporting. In June we are showing an hour-long documentary called "Woke the Monster" it is a redemption story of an army veteran who is caught up in PTSD and addiction and the philanthropic support will be directed to a veteran serving org "Band of Runners".
We want to hear how you are staying motivated through this time! What innovative ways have you seen to keep our local athletic community inspired, moving, and training? We always love to hear from you. Drop us a line at Pacific Multisports!