On March 25th 2022 I FINALLY completed my first OFFICIAL 100 mile trail race at the Badger Mountain Challenge in Richland, Wa. This finish has been a long time coming….
Let's back up to 2019 when I signed up for my first 100 mile trail race and trained all summer for the race. I started the Teanaway County 100 mile race near Roslyn, Wa and made it about 100km into the race when there was a sudden lightning storm and flash flooding that canceled the race. What a weird experience to have during my first 100 mile race and not getting to finish that was really hard. Since I had all the training and I wanted to see what running 100 miles was like I did my own "personal" 100 mile run around Lake Padden. I finished 100 miles there but this was not a "race" and just a personal goal to see what running 100 miles was like.
I had already planned in 2020 to run a 200 mile race called the Bigfoot 200 and was dedicating all my training that year to that race. When Covid-19 hit in early 2020 they still thought that this race was going to be able to happen so I kept training for it. About a month out from the race the official decision was made that the race had to be canceled due to not being able to get permits. I had the time off already and my friends had all volunteered to take time off to help me so we decided to do the entire 200 mile route ourselves. With their help I finished the 200 mile distance and the entire Bigfoot 200 course "unofficially."
2021 was dedicated to training for and running the Moab 240 race as I rolled over my canceled Bigfoot 200 entry to this race. In 2021 I got my FIRST official 200+ mile distance finish BEFORE I finished my first 100 mile race.
So that is how it took me 4 years to get to my FIRST OFFICIAL 100 mile race FINISH at Badger Mountain 100. And this is where the story begins: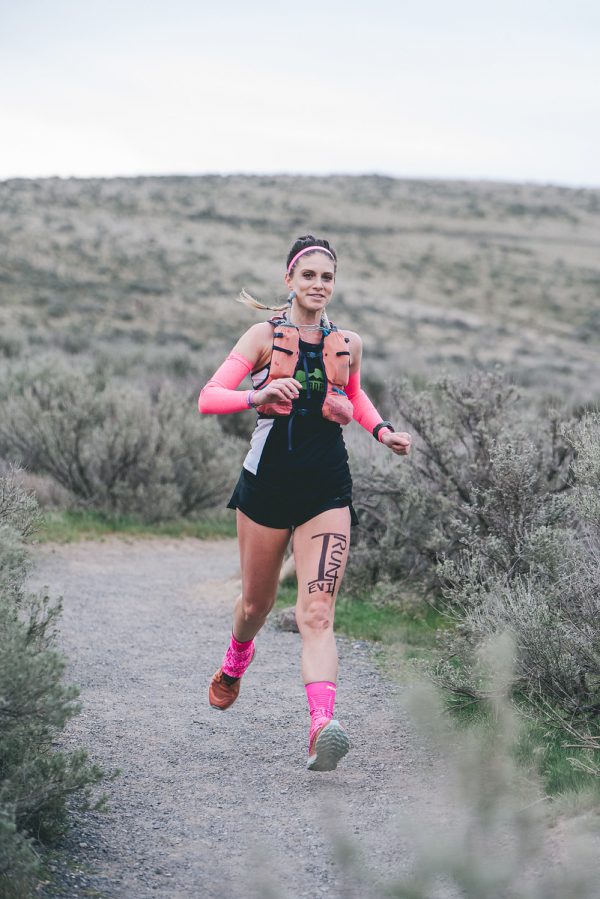 The day started off really great and we started in waves. The weather was amazing and I felt so strong and excited to FINALLY be racing my 100 mile race. Nothing was going to stop me from finishing this race if I had to crawl across that finish line. There are 2 mountains that you climb up and over, the first one is called Badger Mountain and then next is Candy Mountain. I felt really good on those climbs and was on my way to the "Endless Vineyard" section of the course – which is filled with, you guess it, VINEYARDS! This is a really nice flat(ish) section where I got to enjoy the views of the vineyards and the hills. You know you've reached the end of the Endless Vineyard section when you reach the infamous "Demoralizing Hill."
Demoralizing hill is so steep that when you get to it you can't see the bottom and it looks like you are just going to go over a cliff. You run/walk up to the edge and just pray you don't fall or twist an ankle. Once you get to the bottom of it you get to go right back up the same steepness on the other side. I focused on putting one foot in front of the other and tried to smile for the race photographer at the top. Once you finish that section the course was SUPPOSED to be a nice downhill until the next aid station but thanks to a new gravel pit going in the course had to be rerouted UP a steep climb then BACK down steep to the trail on a trail called "unnecessary roughness." I was still feeling pretty good at this point as I was only about 18 miles in. I knew what I had coming up next was the toughest climb of the course, the climb up to Mcbee Ridge. This climb gains 1000 feet in just 0.8 miles. I saw my dad at this point and grabbed my poles  from him as I wanted to use them for the climb. As I was running away he yelled at me and said "HEY! I forgot to take a picture!" I yelled back, "I GOTTA RUN DAD!!!" and turned, throwing my arms in the air and smiling back at him ready for that tough climb.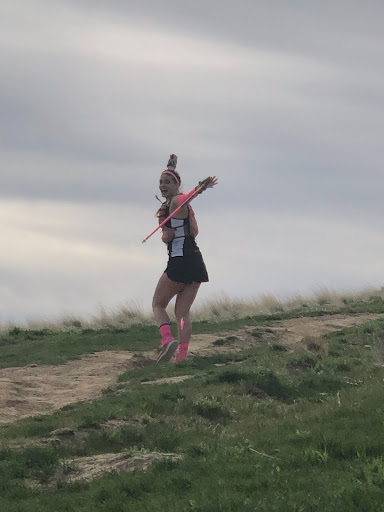 The climb wasn't too bad and when you get to the top of the ridge the views are spectacular. This is the turnaround point for the course and at this point you are about 25 miles in. The course is 2 out and backs for the 100 mile race so I knew I would be back here later in the night for my 2nd out and back.
From there I was excited to run back to the start to see my girlfriend Sabrina who had to work during the day but was able to come out and help crew and pace me for the last 30 miles of the race. I was almost back to the start (50 mile point of the race) when I saw my crew and at this point I was HOT. It wasn't terribly hot weather but the 65 degrees that it was on race day with no shade was taking a toll on me since it was still pretty cold over in bellingham, Wa where I lived. Sabrina had an ice pack in her car and told me to put it in my sports bra and I listened to her and this helped cool my body. I knew I needed to slow down a bit since I was getting hot and I didn't want my stomach to get upset. I was feeling better once I got back to the 50 mile point and turned back around to head out for my last out and back on the course.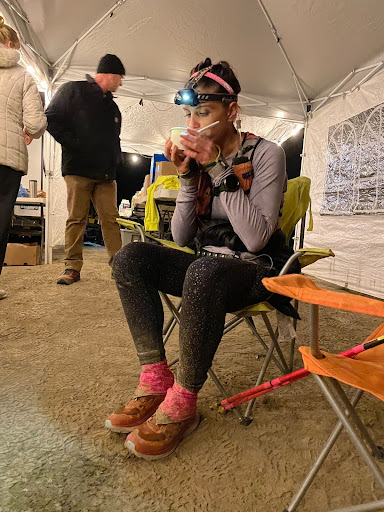 I finally made my way back to Sabrina and my dad at around mile 70 and this is where Sabrina started to pace me. In 100 mile races you are allowed to have a friend "pace" you which means they run with you to help keep you safe and help keep you going. She made me some food, tea, and took off my socks and cleaned my feet for me then helped put on clean new socks for me before we took off up the steep McBee hill for the 2nd time! She told me stories, kept me laughing, made sure I ate, and we counted spiders (which Sabrina hates) as we slowly ticked off miles.
At this point I had been running in 1st place the entire race. It was exciting being in 1st but it's a long race and I knew at any point someone could pass me so I just focused on what I could do. I was having a hard time eating gels and food. The only thing I wanted was soup and I slurped some of that down at the aid stations. We were moving pretty good with only 5 miles to go and one big climb left when another woman and her pacer zoomed past us. Sabrina looked and me and said "You want to push to pass her?" I was already running at what my legs could handle at that point and just wanted to focus on doing the best I could. I really wanted to win but that woman was doing her thing and I was doing mine and that was the best I could do.
We made the run down into the finish line and Sabrina pulled off to let me run through the finish and while I thought I might tear up from being so happy to finish my first 100 mile race all I could do was hug Jason Reathaford (the Race Director) and then fell on the grass and said I'm never moving again! I finished in 22 hours 35 minutes and 22 seconds which was good enough for a 2nd place finish at my first 100 mile race.  This race was everything I dreamed of and if you are looking for a fun race to run they also offer multiple distances, they have a 15k, 55k, 50 mile race and the 100 mile race.