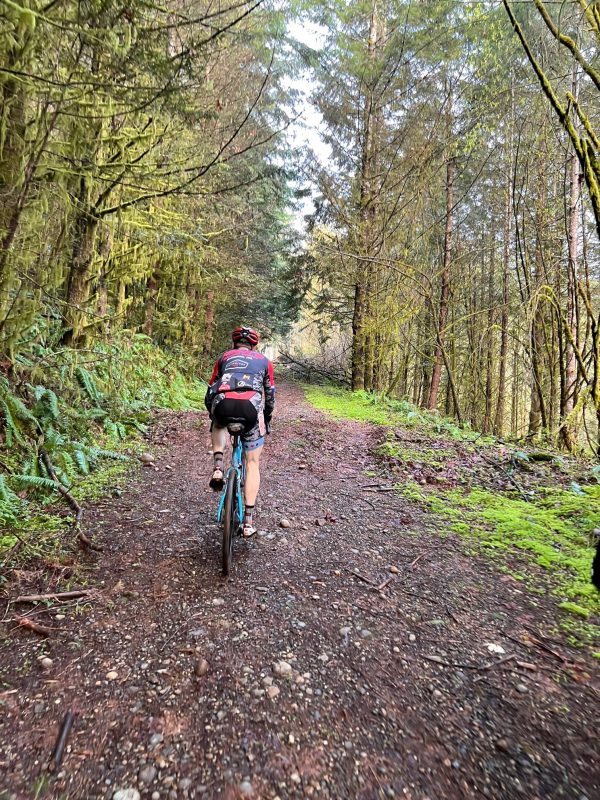 There appeared to be a good turnout and I recognized a lot of familiar faces on Saturday morning, including a few other Jack's Homegrown Racing teammates getting ready for the 50-mile course. I raced the 100-mile course with teammate Justin Daniels and we lined up for the 07:00 mass start of about two dozen riders. The group stuck together in a brisk paceline, passing a number of the "hybrid start" individual riders. Our pack broke apart when we hit the first steep gravel section with some water bars, after which 3 of us remained in the lead group. After about 30 miles I was alone out front with Seattle rider Sam Owens.
At about 45 miles things went sideways when the course routed through an abandoned logging road with dense alder growth and windfallen trees, resulting in a 90-minute bushwhack to stay on course. I understand this was an unintended course feature resulting from a mapping error, but Sam Ownes and I stuck together and made it through with an 8-mile pedal to Aid 3, which was a welcome sight. Shortly after Aid 3 we began encountering other 100-mile riders that we previously dropped, who had navigated the bushwhack differently. I fell apart just before the steep hike-a-bike section around mile 85, where Sam got away from me. I fueled and lubed my chain at Aid 4 before bombing the last couple of descents to the finish 5 minutes behind Sam Owens, where food and refreshments awaited.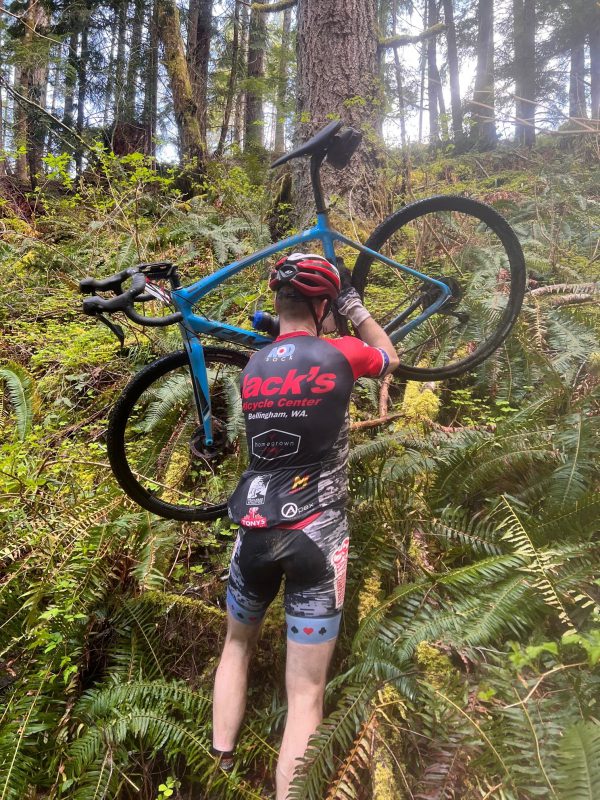 This course had it all – a great start-finish area, a bit of pavement, smooth & fast gravel combined with some chunder and technical sections, and a couple of unorthodox but short hike-a-bike sections to piece together the best that Capitol Forest has to offer. I could do without the 90-minute bushwhack, and I understand the promoter is aware of the confusion and will be fixing that for next year.
I've raced in Capitol Forest about a dozen times for prior versions of this gravel race and for some MTB events, and have always enjoyed the terrain/trails there.
Race review written by Bellingham athlete Ben Shaklee of Jack's Homegrown Racing Team. Photos by Sam Owens of Seattle's Premier Racing Team. Results for the 2022 Cascadia Super Gravel can be found here.