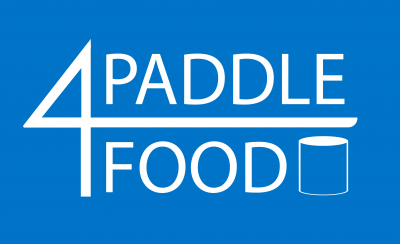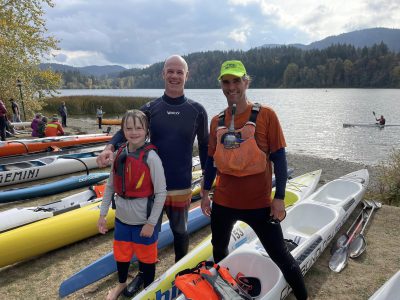 Every year local paddlers get together for the very fun and somewhat unusual Paddle 4 Food relay race to raise money and food donations for the Bellingham Food Bank. The race was started in 2005 by Peter Marcus and has become an annual tradition.
This race is a relay race, but you won't find out who your team is until the morning of the race. You come to Lake Padden with your boat, and the race organizers do their best to create relay teams that balance new and more experienced paddlers. The results of the race are always a surprise, except that it's a great way to have a blast AND help out the community.
Race organizer Kevin Olney summed up the day with this great write-up:
Thanks to everyone who attended and supported Paddle 4 Food 2022!
Nestled neatly between the weird extended summer/smoke season and True Fall wind and rain we enjoyed some classic October weather. Calm crisp morning with some sunshine and a light breeze in the afternoon. I saw at least one racer go shirtless, so that's something. There were no recorded swims for only the second time in P4F history. 
Truly a community event, we had racers aged 8 to 80. The teams were competitive, with all teams finishing only 10 minutes apart. We know it could not have happened without the help of some awesome individuals:
Julie V, Kim W- registration, cleanup 
John R – Soup Boss, kitchen organizer 
Denise T – kitchen, cleanup
Deb B – setup, cleanup, kitchen
Brandon N – buoys, team formation
Steve S – buoys, boats
Kim R – boater safety
Tom H – money magic
Adrienne, Tierra- timing
Marc B – registration, timing, equipment 
Paul C – permit, insurance, awards
Peter Marcus – the father of P4F!
And many thanks to all the other helping hands throughout the day. Huge thanks to the folks who supplied soup and cookies. I'm not sure who brought what, but it was an amazing spread!
Aside from the exciting racing and fun social event, the whole point of the day was to benefit the Food Bank. That goal was accomplished! Your combined generosity resulted in over 200 lbs of food and nearly $5000 donated to the Bellingham Food Bank!! That's amazing folks. A lot of people rely on the Food Bank for daily meals and to get through hard times. It is important work they do and I'm glad we can help sustain the cause. 
Stay safe out there and thanks everyone for making it a huge success!
Kevin Olney – Race Organizer
And because food is always an important component of any great race event, John Rybczyk had this to add specifically about the soup makers:
Denise T.  Corn Chowder
Dan M. and Bev.  Beer, cheese and bacon soup (my favorite).
Chris O. Kale and Yam soup (Chris, I have your red spoon)
Adam, Chicken Tortilla Soup
Kevin O. Chili (First to get all eaten, second year in a row).
John R. Smoked Salmon Chowder
Neil, Chicken Orzo soup
Altogether the paddlers, family, and friends consumed 47,000 gallons of soup and we were able to feed everyone but Duncan.
Results from the 2022 Paddle 4 Food can be found at: https://pacificmultisports.com/results/paddle4food2022/ If you weren't able to make the event this year, this is one fun day you'll definitely want to add to your calendar in 2023.