Meet the 2023 Team Bellingham!
follow #teambellingham for race updates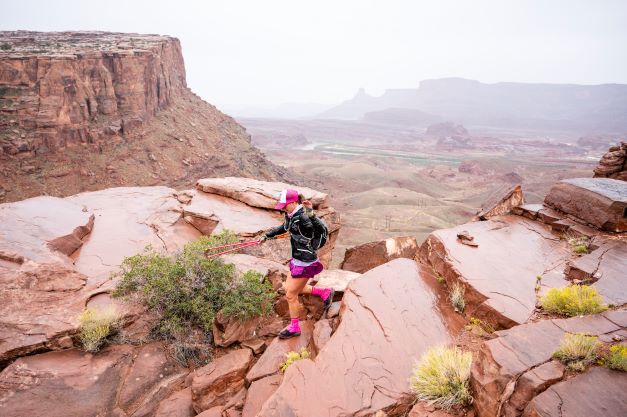 Alicia
Bio
I was born and raised in Bellingham, WA and got into running when I was 19 because my dad ran a 1/2 marathon and if he could do it then so could I!
When I got sober on December 27, 2015 I used running to help manage my sobriety. Running and sobriety go hand in hand that if you focus on putting in the work day to day over time you will see improvements. Some days were harder than others, but I kept putting one foot in front of the other. In my sobriety I became more consistent with running and I discovered the trail and ultra marathon world and I was hooked.
In October 2021 I completed my longest race yet, the Moab 240 mile ultra marathon in Moab, UT. People always ask me, "Why do you run so far?" My answer is simple. I LOVE spending time outdoors and in the mountains. I have had so much fun exploring the trails within Whatcom County and the longer I run the more I get to see and explore. We have amazing trails in Whatcom County and I love that there is a trail out there for anyone at any level. If you need a recommendation on a good trail to hike or run in Whatcom County I'm your person to ask!
When I'm not training, I work as a Physical Therapist Assistant in Bellingham, and coach runners with Team RunRun. I also enjoy time with family, friends, and Dairy Queen blizzards!
Proudest Accomplishment:
3rd Place at Moab 240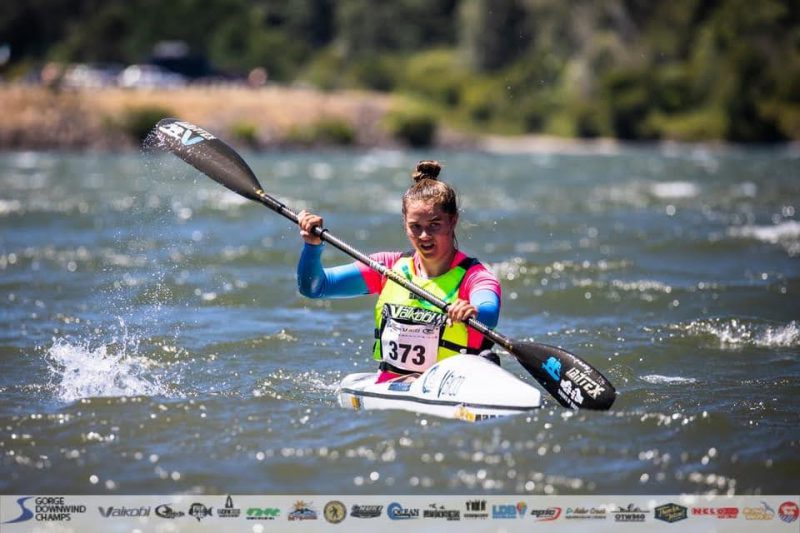 Ana
Bio
I am a surfski paddler and student at Western Washington University. I grew up in Bellingham and started paddling when I was 11 years old with the Bellingham Canoe and Kayak Sprint Team at Lake Padden. Shortly after I started sprint kayaking, my dad started taking me out on the bay in a surfski and I really fell in love with paddling in the open water waves. Since then I have focused on surfski and have raced around the world including three World Championship events, winning the under 18 female division in 2019, finishing 2nd female overall at the 2021 surfski World Champs, and most recently winning the under 23 female division in 2022.
When I am not paddling or doing school work I also love mountain biking and trail running with my dog and using all the outdoor recreation space that Bellingham has to offer!
Proudest Accomplishment
Getting 3rd overall female at the 2022 Doctor, the most competitive ocean race in the world.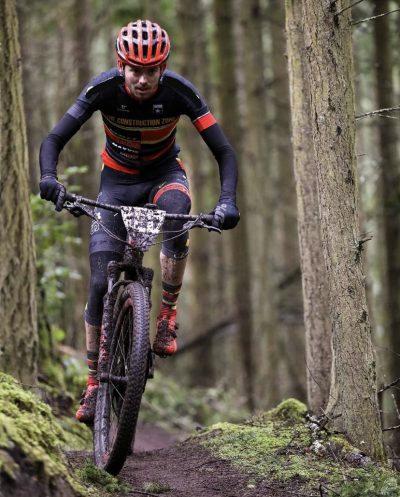 Cal
Bio
Hi! My name is Cal and I'm a cross country mountain biker. I've been racing bikes since I was 9 and am more hooked than ever 18 years later. I love every aspect of mountain biking, especially the physicality, the adventure, the thrill, and the camaraderie. I'm known to compete in all sorts of disciplines, and even the occasional triathlon or running race.
I grew up in the Sonoran Desert, so I'm always in awe of the greenery, water, and glacial peaks here in Bellingham. A good chunk of my training, especially in the late summer when snow lines are high, involves sight seeing missions in the mountains either by bike or on foot, or both.
You can find me on Strava here! https://www.strava.com/athletes/1311602
Proudest Race Accomplishment
Collegiate National Champ!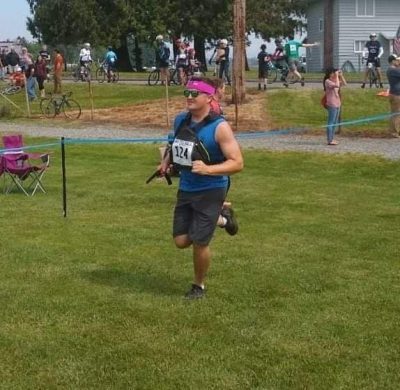 Dale
Bio
I was born and raised in Bellingham, WA and I never really want to leave. I was active in sports my entire life and I got into running when I was 36 to stay active because some of the other sports were getting harder to find options for. I have grown to love it and the last few years I have been trying out the local Triathlons and Swimruns and I really like these races. I enjoy cycling, hiking, mountain trail running, swimming, fishing, and paddle boarding. My favorite activity is probably trail running but I really enjoy anything that gets me in the trails or on the water.
I have been married for 17 years and we have 3 kids. I enjoy coaching all three kids in their various sports so that keeps me quite busy when I'm not working. If I'm not working or playing with the family, you can probably find me in the Cascades running around, Fishing in the San Juans, or Paddling in one of the local lakes.
Favorite Local Place To Train
Stewart Mountain is my go to for running, Galbraith for mountain biking, and Padden for swimming!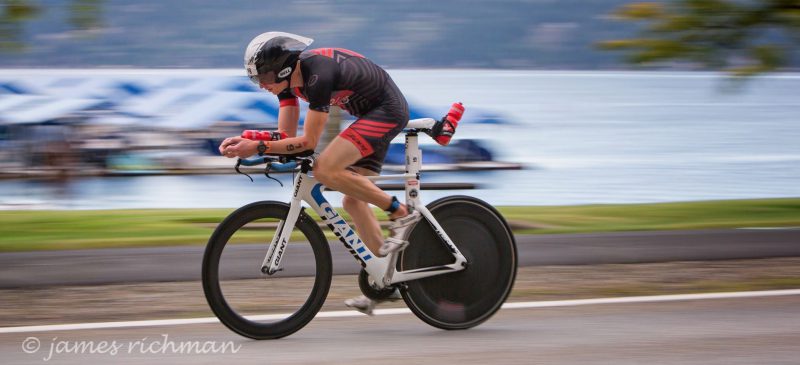 David
Bio
I've been racing for 20+ years in triathlon and running events. I competed at Highline Community College and WWU in cross country and track. I also raced on the club cycling team at WWU. After college I raced as a professional triathlete and have continued to compete in the local circuit as well as a few destination races taking many podiums and overall wins along the way.
The 2023 primary goal is to return to full strength following a hamstring/hip injury last year. Once healthy the goal is to return to 10k to half marathon road and trail running racing.
When I'm not training I work as a massage therapist and coach runners and triathletes with Team RunRun. I also enjoys yoga, paddle boarding and am a new dog dad.
You can find me on Strava at www.Strava.com/davidlarpenteur
Favorite Race
My favorite race is the Lake Whatcom Triathlon because its a fun backyard race competing with friends, and I usually have a birthday BBQ afterwards to celebrate.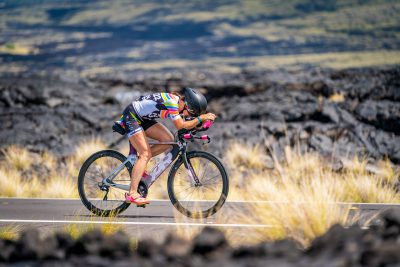 Debbie
Bio
After teaching myself how to swim in 2018, I rapidly grew into a full-fledged triathlon addict. In 2021, I started to podium in half Ironman races and went to my first 70.3 Worlds event. In 2022, I truly surprised myself on what was possible. My first race of the season was Puerto Rico Ironman 70.3. For the first time ever, I broke the finishline tape, taking an Overall win. As the season continued, I steadily got fitter, faster, and stronger while miles grew to prepare for my first full Ironman. Then, it happened. I completed Ironman Mont Tremblant in August. Not only did I become an IronWoman, I won Overall Amateur Female (7th amongst Professional athletes) with a finish time of 9:48. This qualified me for Kona just 6 weeks later. In October I raced both World events for the full and half Ironman. In Kona I placed 9th in my age group, 23rd overall Amateur in the world. In St George I *won* my age group, 13th overall amateur female. This made me a World Champion and automatically qualified me for Finland 70.3 Worlds in August 2023. Twice in 2022 I qualified to become a professional athlete through Ironman. So, it's easy to say my aspirations for 2023 only keep growing.
I am grateful to represent Bellingham for the second year during such time of athletic growth! I can't wait to see what's in store next and excited to share it with you all! ❤️
Check out Deborah Eckhouse on Strava
https://www.strava.com/athletes/37213776
Favorite local place to train
Lake Padden! 100% a triathlete's dream playground
Stories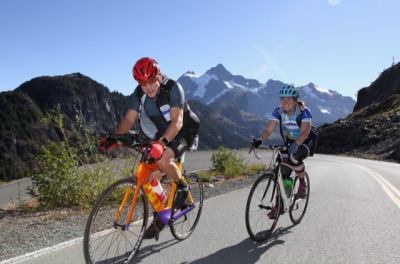 D.J.
Bio
I love being physically tired,  though wrestling was my main sport through college I ran 2 marathons in high school.
I did my first triathlon in 2000, my first Ironman in 2002.  I did Ironman Coeur d'Alene 2012 less than 6 months after having my left hip replaced, I had the right hip replaced in Jan of 2021.
I am usually a  mid pack athlete, but in 2017 at Ironman Arizona things went my way and I  podiumed with 5th in my age group. In 2018 I raced Kona via the legacy program.
This season I hope to joy ride, fun run, pleasure swim to fitness,  I'll do as many local events  as I can manage while getting ready  for Chuckanut 50K  my first Ultra,  and my  20th Ironman at Coeur d'Alene,
I work as a Thai Massage Bodyworker  I move  all in and out of stretches and presses  helping my athletes/clients/friends recover and prepare for more fun.
Favorite local place to train
Lake Whatcom  and Lake  Samish are my  favorites places  to swim,   I enjoy biking on Galibrath Mountain,   Any place I can be in the woods, see mountains,  bodies of water, while running, walking, hiking works great for me.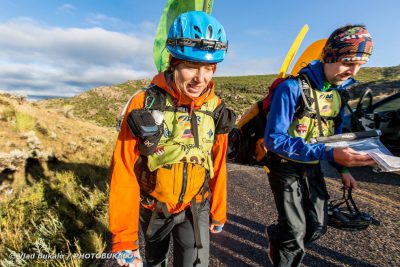 Dusty & Emily
Bio
Dusty was born and raised in Bellingham and Emily in Grants Pass, Oregon.  We met on the Cross Country team at Whitworth University in Spokane.  Our love of running and all sorts of outdoor adventures eventually led to us trying our first adventure race together on Orcas Island in 2013.  We were hooked and have made adventure racing our focus ever since!
In the past nearly 10 years we've been fortunate to race with many amazing people in dozens of races ranging from 3 hours to 7 days in length, and as far away as Spain and New Zealand.  In 2019 our Bellingham-based team, Quest, won the Adventure Racing National Championship!  We are also part of team Bend Racing, based in Oregon. We love racing together and pushing our limits as a team. Bellingham has been an amazing place to live and train for the races we do.  From paddling in the San Juans to climbing and skiing Mt. Baker- we love to do it all. Since we started adventure racing, Dusty has competed in 8 expedition (multi-day) races and Emily has competed in 7 expedition races. We have both done countless shorter races as well. Our main focus the past few years has been competing in the Adventure Race World Series circuit (races are usually about a week long) and the USARA National Championships (24 hour races). Bellingham has been a perfect place for us to train since these competitions involve mountain biking, trekking, rappelling/climbing, mountaineering, whitewater paddling, kayaking, canoeing, other random activities, and most importantly- navigation and teamwork. All of these disciplines are easily accessed year-round here, which is awesome!
Our race calendar this year is rather busy! Our biggest races are: Expedition Canada in May, 24hr Orienteering Rogaine World Championships near Lake Tahoe in July, the USARA National Championships in Vermont this September, and the Adventure Race World Championships in South Africa in October. We are racing on a new team this season and you can follow our training and racing through our Instagram and Facebook!
Follow us on Strava here: https://www.strava.com/athletes/3314246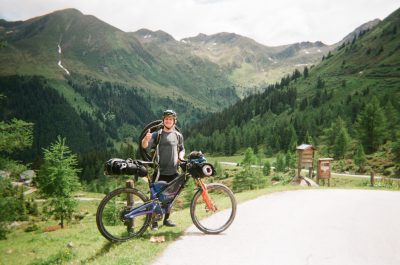 Eric
Bio
Hi! My name is Eric Olsen and I'm a 22-year-old mountain biker from Bellingham WA. You'll most often find me on the local trails; riding with friends, filming, training, coaching, or helping someone with a trailside bike repair. When I'm not on my bike you'll find me designing and manufacturing bike parts for my brand Jank Components or picking up gear at Fanatik Bike Co. I love our mountain bike community in Bellingham and I try to give back as much as possible to Vamos Outdoors Project and Galbraith Gravity Racing.
Favorite Local Races
The Whatcom World Cup!!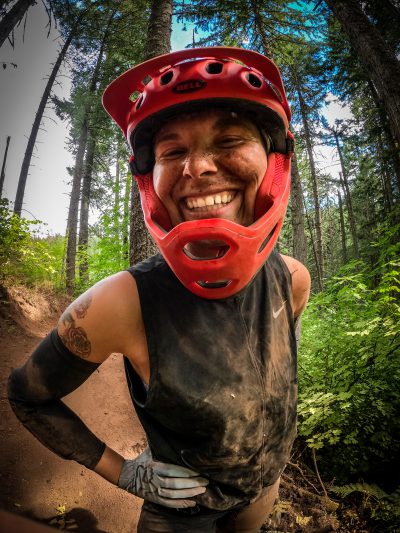 Erin
Bio
Growing up in the PNW, I've been fortunate in my access to many amazing recreational activities. My love for competition has only increased over the years, and now I paddle, ski, bike, and pickleball as often as I can. I race outrigger canoe with my mom and other teammates on BBOP, as well as race solo. I love to mountain bike, and I teach spin to help share my love for bikes and fitness. My newest obsession is pickleball, which I plan to compete in this year for the first time.
Favorite Local Races
My favorite local race is the Bellingham Bay Classic because I love paddling in our beautiful city.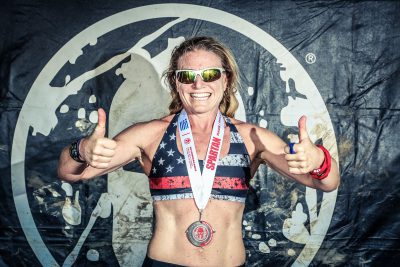 Heather
Bio
I am a 50-something lifetime athlete, addicted to challenge and pushing myself out of my comfort zone to see what I can do!
After a 20-year career as a swimmer, I have continued to throw myself into new sports. That began with traveling the world Adventure Racing with Team Subaru USA, then ultra marathon paddling and surfski racing. From our local PNW waters, to Australia, to the Yukon I tackled anything from 5- to  460-mile kayak races. I also organized and completed several expeditions with my husband Brandon. We circumnavigated the 1200-mile coast of Lake Baikal in Siberia, and biked and paddled 3200 miles from Canada to Cabo San Lucas. From there I discovered SwimRun and Spartan Racing and recently traveled to Greece for the Spartan World Trifecta Championships where I made the podium in my age group! Then, at 48 years old I decided to try something completely out-of-the box and kind of scary for me: Ninja!
My children Hayden and Jazzy are now swimmers, Ninjas, Spartans and outdoor adventurers as well. There is nothing more rewarding than competing side-by-side with my kiddos and watching them charge paths of their own!
The journey is the best part of racing. The amazing people you meet, the confidence you gain in yourself, the adventures in training, and the places you go!
Proudest Race Moment
My proudest race accomplishment is breaking the Solo Women's Sea Kayak Record in the 460-mile Yukon River Quest by 10 hours in 2006. That record still stands.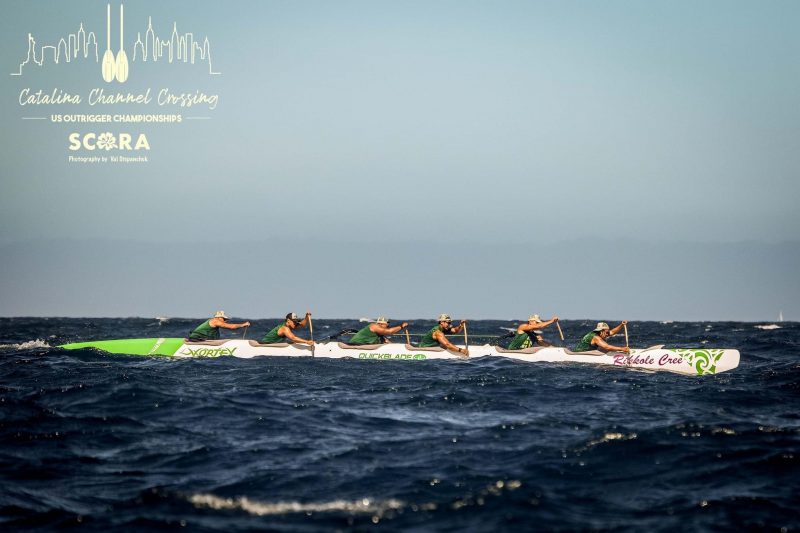 Qua'Sil Sulkanum
Bio
Hi, I'm Qua'Sil. This is my favorite race photo. I am sitting in seat 3. This photo was taken at the Catalina Crossing that took place last September.
I was born in Bellingham and have lived in this community my whole life. I am very passionate about canoe pulling. I paddle for the Rikkole Cree Canoe Club where we do war canoe and outrigger canoeing as well.
This year I plan on participating in the Gorge Downwind Champs and doing the Catalina Crossing once again. I enjoy doing downwinders with my crew.
Favorite Local Race
My favorite local race is either the Gorge Downwind Champs or the Lummi Stommish Water Festival.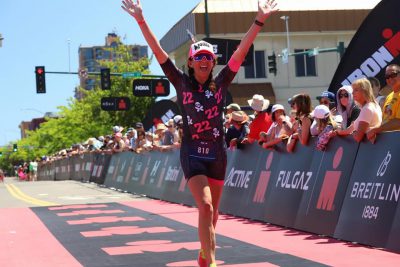 Jessica
Bio
I am a Pacific Northwest native who loves to be outside doing anything that brings me closer to trees, mountains, or water.  I enjoy cycling, trail running, hiking, skiing, swimming, and mountain biking, but my favorite sport is triathlon. Though I travel to big races, the local ones here in Bellingham are always the most fun.
Outside of racing and training, I do make time to work as a dentist 3 days a week. I'm very social so I love talking to patients all day. I am also a mom to two teenage boys and two fur baby French bull dogs. All four of which keep me busy.
My husband Rob and I have been married for 20 years. He is the one who introduced me to the world of triathlon. His zest for life, sense of humor, and of course his legendary race costumes remind me that racing, above all else, is supposed to be fun.
Favorite race
Bellingham Traverse
Jo
Bio
I was born and raised in the Pacific Northwest, spending time in Germany and serving in Iraq during my time in the military. While running during my Army career was my least favorite thing to do, I turned to it after losing a close family member to breast cancer in 2013. It started with a small group of family doing our first 5k at the Bellingham Bay Marathon weekend. This led to countless races, which led to taking on bigger challenges. Pushing myself further outside my comfort zone I began signing up for triathlons, Ragnar Relay Races & trail running races. I don't fit the mold of what many think a multisport athlete would look like, and you'll probably never see me on a podium. But I will be there, at the back of the pack, cheering every person on as they pass me and encouraging those who I may pass.
Two years ago, cancer walked back into my life. This time in the form of the discovery I had the BRCAII genes making me predisposed to breast and ovarian cancer. Taking charge, I chose a double mastectomy, and hysterectomy to ensure I would be around to race for years to come. 2023 is all about reclaiming my body and finding the power in its new form.
You'll usually catch me running around Ferndale, out around Whatcom County on all the beautiful trails with my besties and recovering from raising 4 kids.
Favorite local race
Blanchard Beast
You can follow Jo on Strava at: https://www.strava.com/athletes/johannah_nelson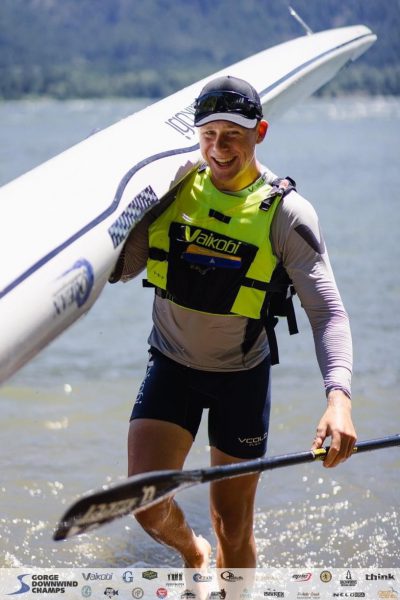 Jonas
Bio
I am a sprint kayak and surfski paddler attending the University of Washington. Growing up in Bellingham established an early and strong love for the outdoors. Throughout my childhood almost any free time was spent outside, mountain biking with my parents and hiking with friends in the vast local greenspaces. In 2013 I began sprint kayaking, and shortly after surfskiing, with the Bellingham Canoe and Kayak Sprint Team at Lake Padden. I was enamored with the feeling of being on the water and loved the freedom and confidence I had to explore different water ways in almost any conditions. Since 2013 I have continued to train in both sprint kayaking and surfski (although my primary focus is on sprint), competing at the local, national, and international level. In 2018 I first qualified for the US Junior National Team and am currently a member of both the US U23 and US Senior National Teams. Over my time competing I have achieved 12 national titles, four international podiums, and one American Record (MK2 500m).
When I'm not on the water I can be found studying Marine Biology and Chemistry at the University of Washington, skate skiing, hiking/backpacking, and cycling.
Favorite race
My favorite local event by far is Whatcom Event's Ski to Sea. It is such a big part of Bellingham and Whatcom County's history and I love how everyone seems to have some connection to either racing themselves or supporting another athlete.
Follow Jonas on Strava at: https://www.strava.com/athletes/15697853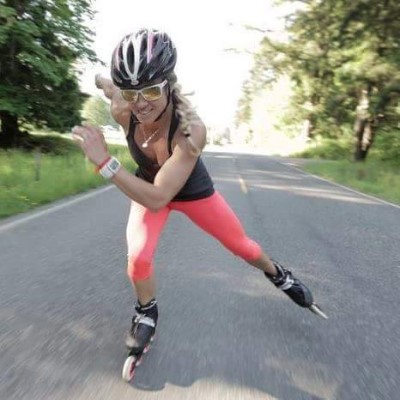 Kacie
Bio
I am a coach, athlete, wife, mother of 2 small children, and own a local personal training business, Driven Athletics. I have dedicated my life to pushing my own limits with the never ending pursuit of keeping myself and those around me motivated, excited about life, and even a little scared of the next challenge. I competed professionally in tower climbing, ranking top 3 in the world for multiple years, qualified and competed in the Boston Marathon, successfully completed 21 days on Discovery Channel's Naked and Afraid, am a professional inline skater, endurance athlete, personal trainer, runner, swimmer and skier. I love sharing my passions with others, especially my children. 
My goal in life is to truly experience every minute of it and to bring as many people as I can with me along this journey!
You can check out Kacie in action at: https://www.youtube.com/watch?v=llaC56qxlAg
Proudest Accomplishment
My proudest accomplishment is inline skating across the United States in 47 days, beating the men's world record by more than 22 days!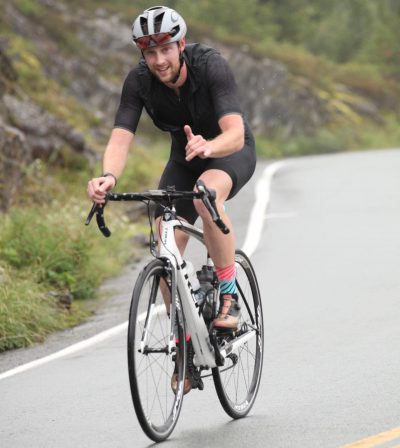 Matthew
Bio
I'm originally from Seattle and moved up to Bellingham in 2018 for an Athletic Training position at Prime Sports Institute. This opportunity immersed me in this amazing athletic community of Bellingham and allowed me to learn about all the different sports including cycling, multi-sport, ultra running, mountain biking, paddling and so much more. This really jump-started my interest in cycling, gravel especially. I enjoy the exploration aspect gravel provides and added challenges that come with it from the terrain you find yourself on.  I have a deep interest in human physiology and how cycling can push your mind and body which, is why cycling has quickly become a love and passion of mine. This upcoming season I have plans for competing in the longer-distance gravel races.
Usually, I am on any of the road and gravel group rides that happen around town because I enjoy the company and building a community. When I'm not on the bike, I'm listening to podcasts, hiking, or playing games at a brewery around town with my wife Daryn, and our Golden Retriever Dale.
Favorite place to train

The Chuckanuts are easily my favorite place to train in Bellingham. There are several long climbs with the best views in town. The countless trails allow you to test your skills and explore for hours.
You can follow Matthew on Strava at: https://www.strava.com/athletes/14078572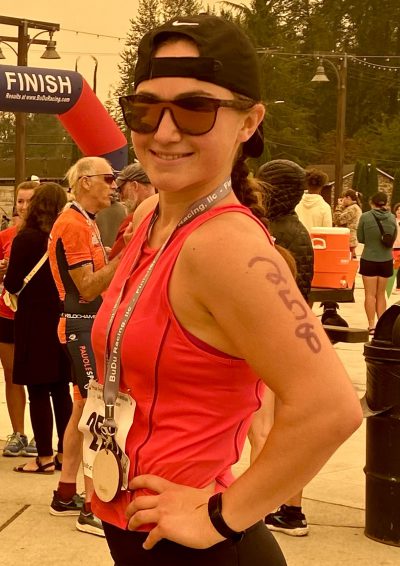 Samantha
Bio
I was born in Montana, and raised here in Bellingham. I am a triathlete that also prioritizes powerlifting along with a deep love for the outdoors. I also love trail running, hiking, and backpacking/camping too! However, my focus and devotion is to triathlons. As I continue to grow into the multi sports, I hope to inspire young athletes to fall in love with swimming, biking, and running just as I have. I find it thrilling having the PNW as my home and playground. What a glorious place to live!
Currently, I'm studying kinesiology as a FT Running Start Student at WCC.
Being the oldest of 4 kids, quality time with family is treasured.
Competing in the Multi Sports has created capacities for growth and discipline, and has given me the opportunity to explore more of my environment. I have been known for my happy dances and may or may not highly enjoy a satisfying meal after a solid workout.
In 2023, I plan on competing in USA Triathlon Nationals in Wisconsin, local races, and Ironman 70.3 Washington.
Proudest Race Accomplishment

1st Place for my age group at the Lake Stevens Sprint Triathlon.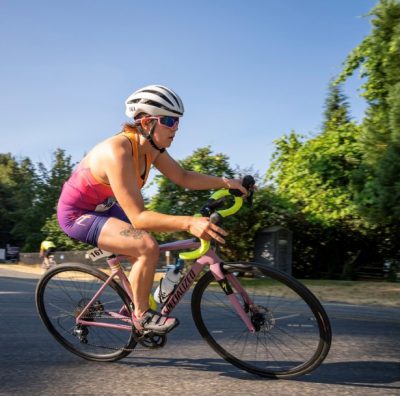 Sarah
Bio
From gymnastics to pole vaulting comes triathlon? I discovered a passion for bikes on a bike ride with my dad my freshman year of college. From then on endurance sport kept inching its way into my life. I decided that triathlon would be my next challenge. It's been an awesome first couple of years and I am so excited to continue my journey with Pacific Multisports. Outside of the occasional outdoor rock climb, mountaineering or ski excursion with Andy Dewey, my passion is triathlon. In the winter, I like to do the local cyclocross series. During the spring, I love doing a couple of bike road races. They always get me excited for the triathlon season. I am so excited to represent Bellingham, Pacific Multisports and the young folks of triathlon this year!!
Proudest Race Accomplishment
When I had a great day at the 2022 Lake Stevens triathlon, came away with 2 event PRs and an AG win.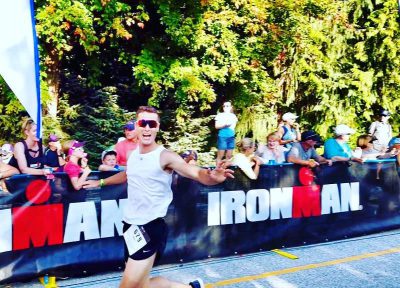 Travis
Bio
I was born in Africa, crazy enough, but unfortunately the times in Zimbabwe weren't great and my family had to basically flee to Ireland. Growing up in Ireland back then, meant that I had to learn to love soccer, or football as I call it. It soon became all that I ever wanted to do. After moving to the States during high school, I had just enough talent to compete at the college level. However,  during that time, I couldn't get enough of sports in general, and wanted to do every fitness event around. From 5kms, Tough mudders and Marathons to Rock Climbing and Skiing in Colorado, I was an addict to athletic endeavors. All I wanted to do was train. Then, after doing my first triathlon, I found the perfect sport that gave me the excuse to train all the time. So, I've slowly weaned off of soccer and am now an a-typical triathlon addict, looking to compete at the highest level. I also run a Youtube channel called TheDailyTri, where I create videos around professional triathlon racing and where I hope to document more of my triathlon journey. The dream is to build enough of an audience and community to make it a full time gig.
Favorite Place To Train

Lake Samish is my favorite place to train as I am lucky enough to live in a small cabin right on the lake. There's nothing better than jumping off the dock for a cold swim in the morning, running up the endless trails from Lake Samish Park, or cycling the hills to Lake Padden and Lake Whatcom
Follow Travis on Strava: https://www.strava.com/athletes/46352535

And tiktok at: https://www.tiktok.com/@thedailytri